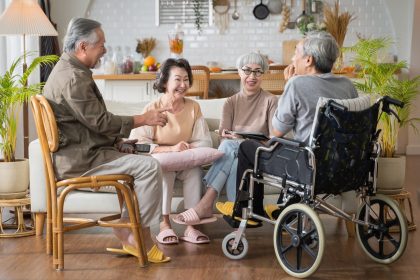 Before settling for a CCRC or elderly home, it's essential to consider the cost. Most CCRCs charge an entrance fee and monthly fee that depend on how luxurious the facility is, the size and type of housing units, and the type of care provided. Monthly fees are not inclusive of additional services. As a result, it's important to plan for a three to six-percent annual increase.
Continuing care retirement communities
A continuing care retirement community (also known as a life-plan community) provides a range of options to meet the aging care needs of a senior. These options include assisted living, skilled nursing care, and independent living. In some cases, a person's needs will require a combination of services.
Most CCRCs require a fee to enter, a process known as a "buy-in fee." The fee can range anywhere from $40,000 to $2 million, depending on the level of care needed. This fee also covers the additional expenses associated with higher levels of care.
A CCRC is a campus-based community that offers long-term care. They are also known as "life-care communities." These facilities include the basic housing arrangements for elderly home residents, including assisted living and memory care. CCRCs also allow residents to move between facilities to meet their changing needs.
Costs
Before moving into a retirement community, it's important to know the costs of living and care. Some facilities charge a lot more than others, but living in a community can be more affordable than you may think. It's important to consider what your budget will allow and what you're willing to spend on a monthly basis. For example, many communities provide three meals a day for their residents, and they can accommodate dietary restrictions such as gluten-free or dairy-free. Similarly, senior communities often offer culturally-based programs that allow residents to participate in different activities.
The costs of a community for the elderly include food, utilities, and home maintenance. The costs of personal care vary as well. Some facilities offer aides to perform activities of daily living, while others only provide medical supervision. Depending on the facility and the level of care required, the costs may range anywhere from $3,500 per month to $6,500 per month.
Complexity of contracts
The contracts for a community for elderly home are complex and should be reviewed by an attorney, accountant, or financial consultant. Type A and B contracts require a lower entrance fee and are best for those who don't anticipate their care needs to increase over time. Type C and D contracts typically involve a lifetime right to live in the community and receive care from the community.
Places in Staten Island that offer CCRCs
If you are in need of a long-term care facility, you may want to consider a community for the elderly. This type of home is designed to meet the needs of older adults and can help them maintain independence. In addition, these facilities offer a variety of services to help them live in a comfortable setting. Those who live in these facilities will find that they receive three delicious meals each day and are provided with housekeeping services. They are also provided with 24-hour assistance with bathing and grooming.
The cost of an assisted living facility in Staten Island can be high. On average, seniors pay around $5,750 per month. This is higher than the state and national average. However, the waterfront location and beautiful views of the Hudson River make this type of community a good option for many seniors.
Staten Island is home to almost half a million people. Its suburban feel provides a respite from the busyness of New York City for seniors. Staten Island has a zoo, museums, and secluded beaches. There are also ferry services to larger boroughs and New Jersey.